Hoi An is the one of the most unique cities in Vietnam.  The Old Town portion of the city is a UNESCO heritage site and the old architecture is superbly preserved and displayed.  Hoi An is an extremely popular destination for tourists, but because of the high number of tourists here, it can be overwhelming.  Nevertheless, we recommend having one full day in Hoi An as it is definitely worth visiting.  As part of our Custom Itineraries for Vietnam series, here is a guide on how to spend one day in Hoi An.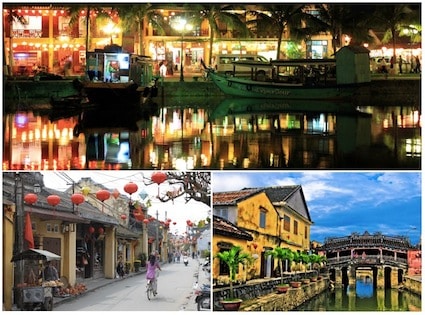 1. Tailor some clothes, bags, or shoes
Custom tailoring is a huge industry in Hoi An.  Hoi An is home to more than 400 tailoring shops and thousands of tailors who are not only talented at making clothes but are skilled in making shoes and handbags as well!  Average turn around time for full suits is a day and about 4 hours for handbags or shoes!  If you are interested in getting custom made items, try to find a shop of your liking as early as possible during your visit.
Of course, the quality of the goods comes into question when the turnaround time is so quick.  The truth is that the opinion on this varies from person to person, item to item, and shop to shop.  Even shops with a solid reputation have been known to make sub par products.  A lot of times, the key is to be completely clear on what you want and to communicate it effectively with the shop owners.  If you happen to be in Saigon before your visit to Hoi An, we recommend that you buy the fabric and materials in Saigon as the choices are more plentiful and usually of better quality.
Here are recommendations for where to go for custom made items (these are places where we have had good luck, and as much as we want you to have the same positive custom tailoring experience as us, we cannot guarantee it):
Shoes, Handbags:  Friendly Shop Hoi An
Shoes, Clothes, Jackets, Suits: Ms. Anh (093 570 5655).  She works independently and sometimes collaborates with different shop and stall owners.  Her tailoring knowledge and knowhow is superb.  She will meet you at your hotel once you contact her.
2. See the countryside
The countryside and rural areas of Vietnam are simply stunning.  Visiting these areas gives you a glimpse of the romanticized vision of Vietnam – the rice fields, the conical hats, the quaint architecture, the friendly faces… As the cities have become more industrial and cosmopolitan, these rural areas have become more remote and harder to reach.  Fortunately for Hoi An, it is still quite small in size compared to other big cities in Vietnam so the countryside is more accessible.
There are several types of tours which take you to the country side for sunrise or early morning glimpses of Vietnamese rural life.  This is also an opportunity for you to pursue some of your interests while traveling.  For instance, if you are fond of photography or of biking, there are tours that are catered specifically to your needs.  Alternatively, a university students' association also runs free city tours.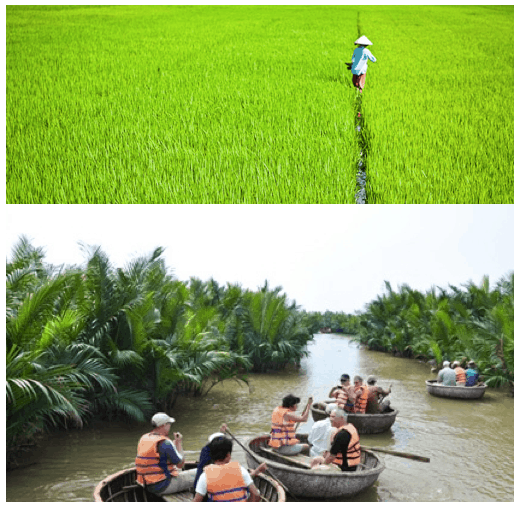 3. Go for a stroll and explore the Old Town
Once you return to the city after the tour, the afternoon is the perfect time of day to see some of the famous sights within Hoi An.  But first, before you set out on foot to discover the city, we recommend that you grab a Banh Mi sandwich to fuel you for the afternoon.  The Banh Mi sandwich in Hoi An is both famous and different from a sandwich that you will get in other parts of Vietnam.  The bread and fillings are unique to the region and is a great first insight into local cuisine.  We highly recommend Madam Khanh's stand, who has been dubbed the Banh Mi Queen in Hoi An!
After you grab a quick bite, check out the famous bridges in Hoi An.  The first is the historic Japanese covered bridge built by Japanese merchants when Hoi An was an important trading port.  The second famous bridge is simply a foot and motorbike (and whatever other vehicle fits) bridge that connects two parts of the downtown area.  The architecture of this bridge isn't historically relevant but the way that the bridge is situated makes for a great photo-op!  If you are a museum enthusiast, you can visit any of four famous museums in the old town area.  Or, for a greater insight into the history of Hoi An, visit some of the Assembly Halls built by Chinese merchants.  You can buy a composite ticket that allows you entry into one bridge, one assembly hall, one old house, one museum and one other place of 'intangible culture'.  All these sites are within the Old Town of Hoi An and are within walking distance from each other.
4. Enjoy the scenery
Hoi An is surrounded by a series of inlets and small channels and some residents of the town have capitalized on this by offering boat rides along these channels.  Although this may initially seem like a very touristy thing to do, it is actually one of the best ways to view the old colonial architecture from afar.  Many boat owners sit along the boulevard closest to the water and offer boat rides.  Feel free to ask several different boat owners to find the one who offers the best price.  Often times, their initial price will fall dramatically if they feel that you will take a boat ride with one of their competitors.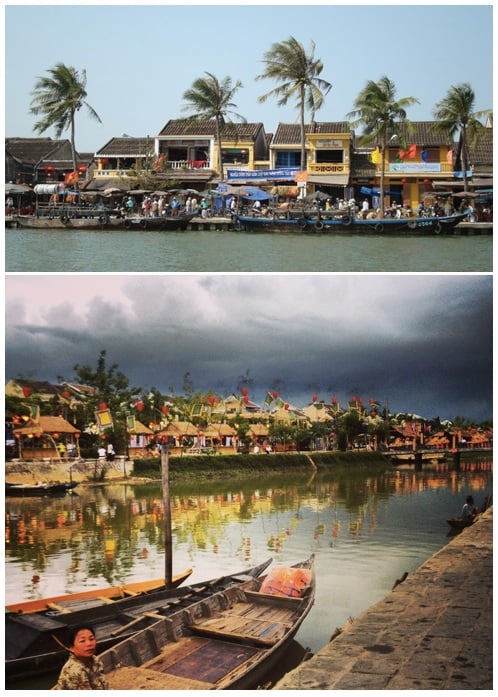 If boat rides don't interest you, you can enjoy the scenery in a different way.  The ocean is not too far away from the main city so a 100,000 VND cab ride will get you to An Bang beach, one of the best beaches in Vietnam.  This particular beach was also named in CNN's 100 Top Beaches in the world so if you happen to be in Hoi An during the right time of the year, we recommend checking it out!
5. Enjoy Hoi An's regional cuisine
As we mentioned earlier, the regional cuisine around Hoi An is unique, and we recommend that you take the opportunity to try it out.  Hoi An has an eclectic mix of restaurants and you will have plenty of dining options.  Look for Cao Lau on the menu, which is a noodle soup unlike pho and other noodle soups you will find in Vietnam.  Also be sure to try white rose dumplings, which are shrimp dumplings shaped with the translucent cover formed in the shape of a rose.
Though Hoi An has both famous and budget eateries where you can try these dishes and more, we recommend Streets Restaurant Cafe.  Not only is it a restaurant serving up delicious food, it is also a social enterprise that helps disadvantaged youth to develop new skills and solid work experience.
6. Visit the Lantern Market and enjoy the nightly entertainment
After dark, the Old Town in Hoi An transforms into a mystical row of lights and lanterns.  In fact, Hoi An is a big centre for paper lantern manufacturers and merchants.  Every shop or establishment will have a few lanterns outside, but the real sight is the lantern market.  Here you'll be able to see how these lanterns are made and will have a plethora of choices should you wish to take some home with you.
After a stroll through the market, check out the outdoor traditional theatre.  You will have a chance to see Vietnamese folk dancers and musicians perform traditional pieces.  The theatre runs from 9 pm to 10 pm at a square on Nguyen Thai Hoc street.  It is completely free and open to the public so it's interesting to see, even if it's just for a few minutes as you pass by.  Before you retire to your hotel, be sure to light a candle box and set it in the water.  Many kids sit along the banks of the channel and offer candles to you – remember to make a wish!